Built Around Pockets Of Open Spaces, This House In Hyderabad Is A Mix Of Architecture and Nature
Occupying a sprawling 13,700 sq ft plot, House No. 93 is strategically aligned with nature. Its thoughtful orientation towards the North minimises direct sunlight exposure, while green courtyards blur the lines between indoor and outdoor spaces.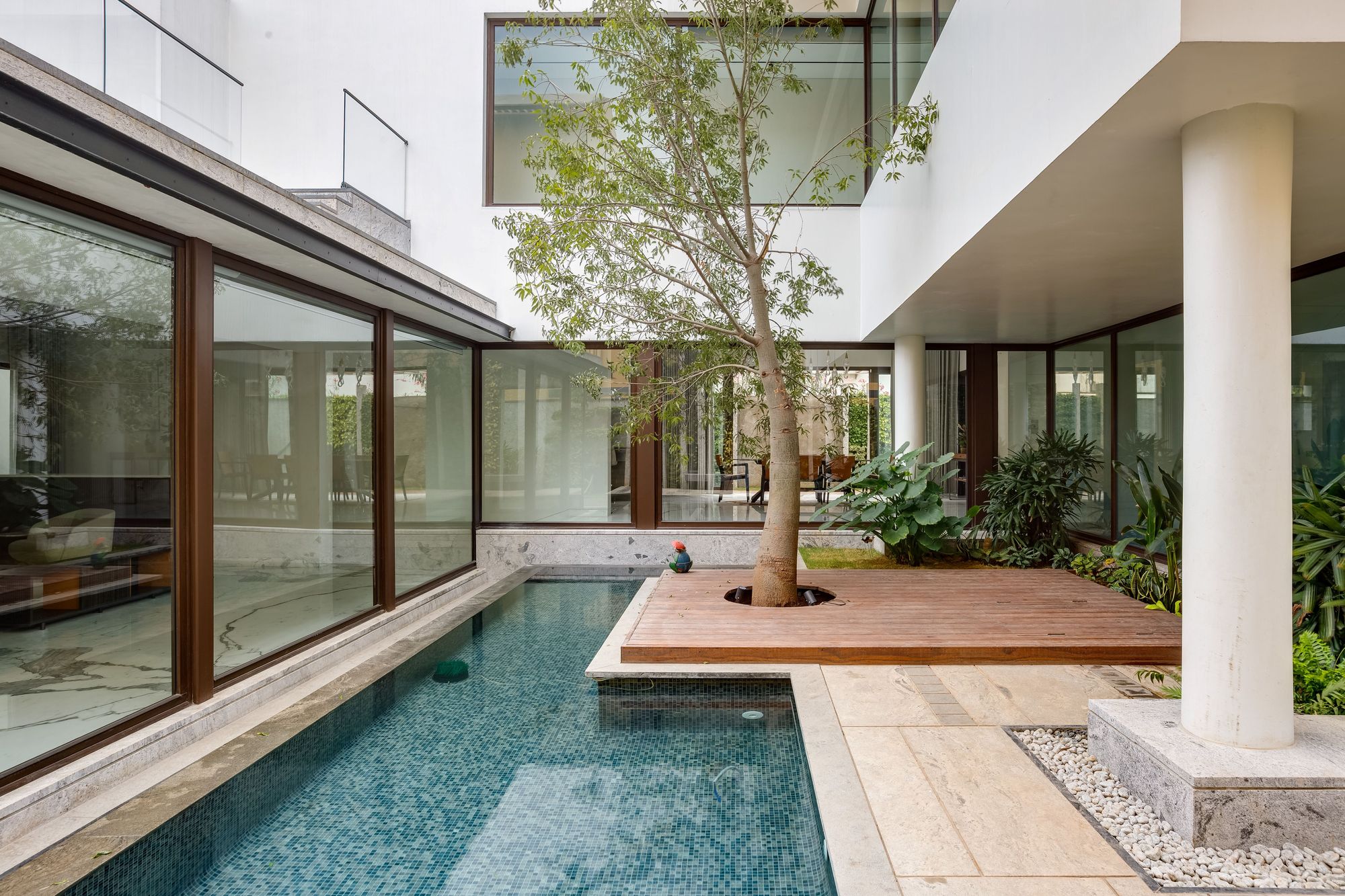 FACT FILE
CANVAS OF THE HOUSE
In the heart of a serene gated community in Hyderabad, House No. 93 stands as the epitome of harmonious design, a dialogue between architecture and nature. This enchanting residence, nestled within a plot of 13,700 square feet, isn't just a house; it's a canvas where every square inch is thoughtfully orchestrated to create a living symphony of aesthetics and functionality. The plot is framed by a row of trees that stand sentinel along the road, creating a natural buffer that cocoons the site in tranquillity. It's not just a coincidence that this house seems to be in sync with its surroundings; every element has been meticulously planned. Facing more towards the North, the house strategically minimises direct sunlight exposure. Moreover, a neighbouring property to the north with no openings provides an added layer of privacy. Further, as if guided by nature itself, the site protrudes at an angle towards the Southeast corner, ensuring that this home is aligned with both the landscape and the elements.
OPEN PLANNING, BLURRING BOUNDARIES
One of the guiding principles behind the design of House No. 93 is the concept of open planning. This is a place where the boundaries between indoors and outdoors dissolve, creating a seamless flow that invites nature in. The central courtyard stands as a testament to this philosophy. Adorned with skylights that filter natural light, it serves as the nucleus of the design, weaving together the different threads of the house into a harmonious whole.
As you enter from the road, a semi-covered collonaded walkway flanked by a serene water body greets you. This is the prelude to an architectural masterpiece that unfolds with every step. Opening the front door, a courtyard with a raised water body comes into view, tantalisingly offering a glimpse of the wonders that lie beyond.
This area, the public zone, unfolds into a formal living room where guests are welcomed. The dining area, a culinary theatre of its own, is strategically positioned adjacent to an open-to-sky courtyard. This courtyard doesn't just bring nature inside; it transforms dining into an enchanting experience. It opens onto a deck on the south side, the green wall creating a backdrop that merges architecture and landscape.
But House No. 93 isn't confined to rigid definitions. Its soul is captured by versatile spaces that adapt to myriad purposes. The informal living room, a sanctuary of relaxation, is flanked by a semi-covered court and a deck. This space dances between roles, from a home theatre hub to a seamless extension of the outdoors. It's a testament to the versatility that lies at the core of this design.
COURTYARDS
Two courtyards, each with its own character, add depth to the narrative of House No. 93. The open-to-sky courtyard, with its water body adorned by a wooden deck, is a visual symphony of plants and a tree.
The semi-covered courtyard, a marvel of design, boasts a glass roof with a panelling design that filters light into the space. It's a canvas of abstract patterns that creates a gentle interplay of light and shadow. Here, a strategically placed light staircase stands as a work of art on its own, ascending in harmony with the mezzanine level.
UPPER LEVELS
The mezzanine level isn't just a physical entity; it's a bridge that connects narratives. It's a pause point that invites contemplation and appreciation for the beauty that surrounds it. Visually connected to the informal living area, it creates a harmonious flow that defines the very essence of this design. Further up lie the private quarters including the master bedroom and the daughter's room. This floor additionally features an internal courtyard and outdoor terrace adding more pockets of greens to the built mass.
As we conclude the journey through House No. 93, it's evident that this residence is more than just bricks and mortar. It's a living embodiment of design philosophy, where architecture and nature engage in a mesmerising conversation. Every corner, every courtyard, and every carefully curated element sings in harmony, creating a symphony that resonates with both aesthetics and functionality. Visit Buildofy to download the PDF copy of the House No. 93 eBook. This book has detailed drawings, illustrations, photographs, detailed material palette and project cost details curated for easy browsing.