In An Ode To Nature And Natural Materials, This Bhopal House Is A Picture Of Calm Just Like Its Name
With its eclectic furniture, curated artworks, and meticulous attention to detail, Sukoon House blends artistry, tranquillity, and personal expression, to create an enchanting living experience.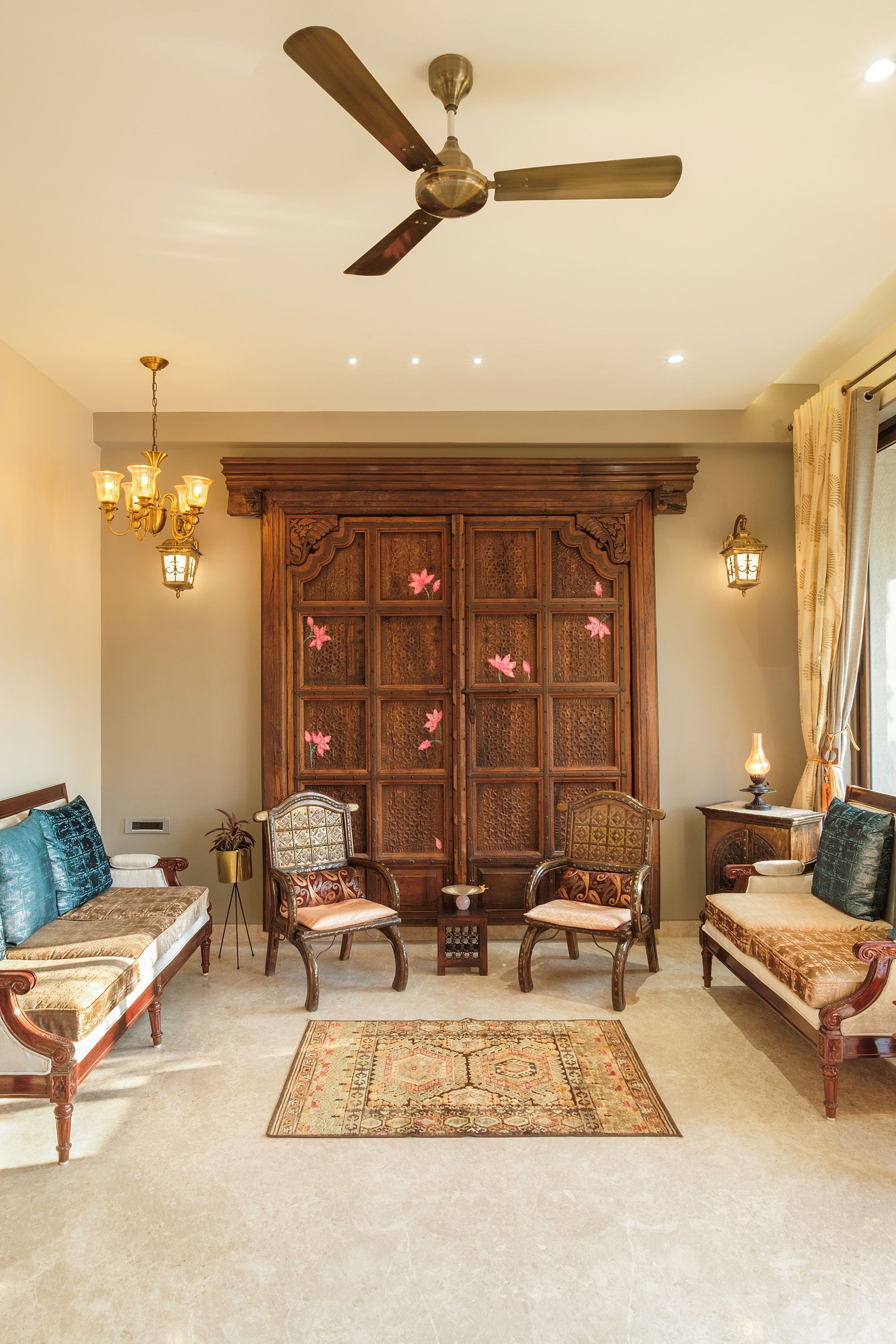 FACT FILE
INTRODUCTION
Nestled amidst the serene city of Bhopal, Sukoon House stands as a testament to artistry and tranquillity. This architectural masterpiece, designed and crafted with meticulous attention to detail, offers a captivating experience that transcends mere living. Sukoon House was conceived as a haven for a couple seeking solace and serenity during their golden years. The clients envisioned a home that exuded rustic charm while embracing the region's traditional architectural elements. Their desire was to create a space that embodied warmth, elegance and a deep connection with nature.
ART FOLLOWS FUNCTION
As you step into Sukoon House, the ground floor spaces unfold, revealing a symphony of design and creativity. The formal drawing room, on one side of the entrance, adorned with upcycled and refurbished furniture, exudes elegance and charm. A magnificent Rajasthani door stands proudly, serving as a captivating backdrop that narrates stories of the past.
A separate passage on the other side of the entrance leads to the functional areas of the house, including the kitchen, guest room, and a cosy family living and dining area. Here, the outdoor sitting area lies shielded from neighbouring houses and the porch. With its carefully curated landscaping and clever positioning, it offers a serene and private sanctuary where one can relax, rejuvenate, and immerse in the beauty of nature.
UP THE FLOOR
Ascending the staircase, a world of intricate details unfolds. The first-floor passage opens to a mesmerising terrace, a space that invites you to bask in the sun's warmth or enjoy the cool evening breeze.
The bedrooms on this floor continue the narrative of upcycled furniture, where each room showcases a distinct headboard treatment, carefully crafted to preserve individuality and create a unique ambience. These havens of comfort and tranquillity provide the perfect sanctuary to unwind and rejuvenate.
ILLUMINATION
At Sukoon House, light is not merely an element; it is an art form. The house has been meticulously designed to maximise natural light and create an ambience of openness. The large windows, strategically placed, flood the spaces with sunlight, casting enchanting shadows that dance throughout the day. The intelligent placement of skylights and the double-height entrance foyer further enhance the play of light, creating a harmonious symphony of light and ventilation that accentuates the home's beauty.
CANVAS OF A HOME
Artistry permeates every corner of Sukoon House, where creativity is celebrated through a myriad of art pieces and carefully chosen materials. Pichwai artwork adorns the walls, offering subtle glimpses into traditional Indian culture and adding a touch of elegance to the ambience. Handmade tiles, with their unique textures, create visual interest, while hain paintings and mosaic patterns crafted from Moroccan tiles captivate the eye with their rustic beauty. Every material used in the construction of this house has been thoughtfully selected, each one contributing to the overall artistic vision.
CONCLUSION
Sukoon House is a sanctuary where art, design, and soulful living converge to create a truly captivating experience. From the moment you step inside, you are enveloped in an atmosphere of tranquillity and aesthetic beauty. The meticulous attention to detail, the thoughtful curation of furniture and artworks, and the seamless blending of traditional elements with contemporary design make Sukoon House a masterpiece.