Intertwined with verdant pockets, this home in Bengaluru lures nature inside
With pockets of dry green courts dotted throughout, this home encases spaces that provide a temporary getaway from the bustling city life.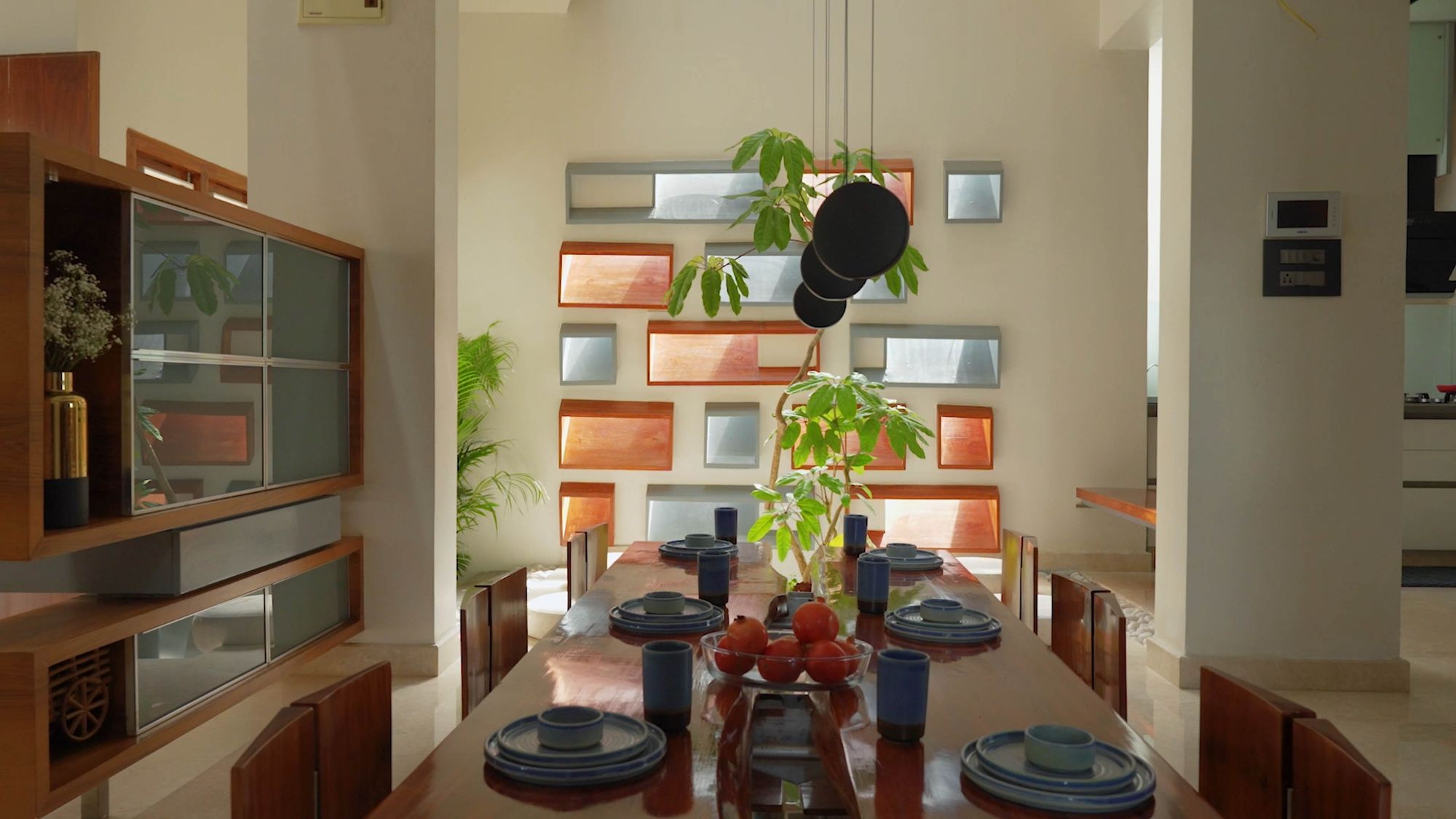 Located in a quiet neighborhood of Bengaluru, Karnataka, a stark contrast from the bustling urban tapestry lies this residence that encapsulates the nature within its territory. With a series of homes and lush foliage lining the street, Transient Nest slowly comes into vision. A wooden mass peeks out amidst the existing trees, directing one's eyes toward its splendor. The façade serves as a prelude to the architectural chronicle that unfolds the contemporary home.
FACT FILE
CONTEXT AND PHILOSOPHY
This 6,000 sq. ft. expansive abode, capitalizes on its north facing site. This orientation allows it to open itself to the three fully grown trees and the blooming surroundings that gently encase it within their embrace.
The design philosophy revolves around the art of crafting little oases around the home, that temporarily whisk the residents away from their bustling lifestyles. These verdant pockets are fine-tuned to drench the interiors in a cascade of natural light inviting the family together for meaningful conversation, over a steaming cup of coffee.
Stacked on a stilt floor, the lower ground floor ingeniously accommodates a rental unit, and a duplex dwelling above hosts living spaces for its owners. Trailing the same thematic division, a horizontal grid separates the distinct zones within the home. The Architects adeptly tuck away the private spaces on the southern façade, ensuring balance of public and private spaces.
HANGOUT BY THE STEPS
The entrance gracefully resides in the north-east corner of the dwelling, concealed by an imposing boundary wall cum entry gate. Upon entering, a wide flight of steps, juxtaposed in contrast greets you, flanked by a lush bed of greens.
Beyond the green haven, is a water feature that is topped with a planter box. The botanical box introduces tranquil elements housing a contemplative Buddha statue beneath the shade of a temple tree, bearing resemblance to a garden. Perched on the upper level, is a swing, a profound testament to the family's roots and rich culture.
DOUBLING THE HEIGHT
On the upper ground floor, the green courts are elegantly perched on a level above from the public spaces. The dining area, adorned with low seating, is an ode to the rich Indian culture. The pièce de résistance is a centrally carved dining table, accommodating a temple tree at its end, allowing its branches to spill into the double-height space beyond. The dining court boasts of double-height ceilings with skylights and perforations that filter and diffuse patterned light, transforming the space into an ethereal realm. The planters and seating invite the residents in for an unhurried and mindful evening.