Simplicity and Artistry: A Unique Curved Home with Natural Tones
Peeyush Residence is a home designed for a joint family, accommodating the client's own family, his younger brother, and their retired parents. This is a story about the design of a modern house that keeps things simple but adds a touch of art.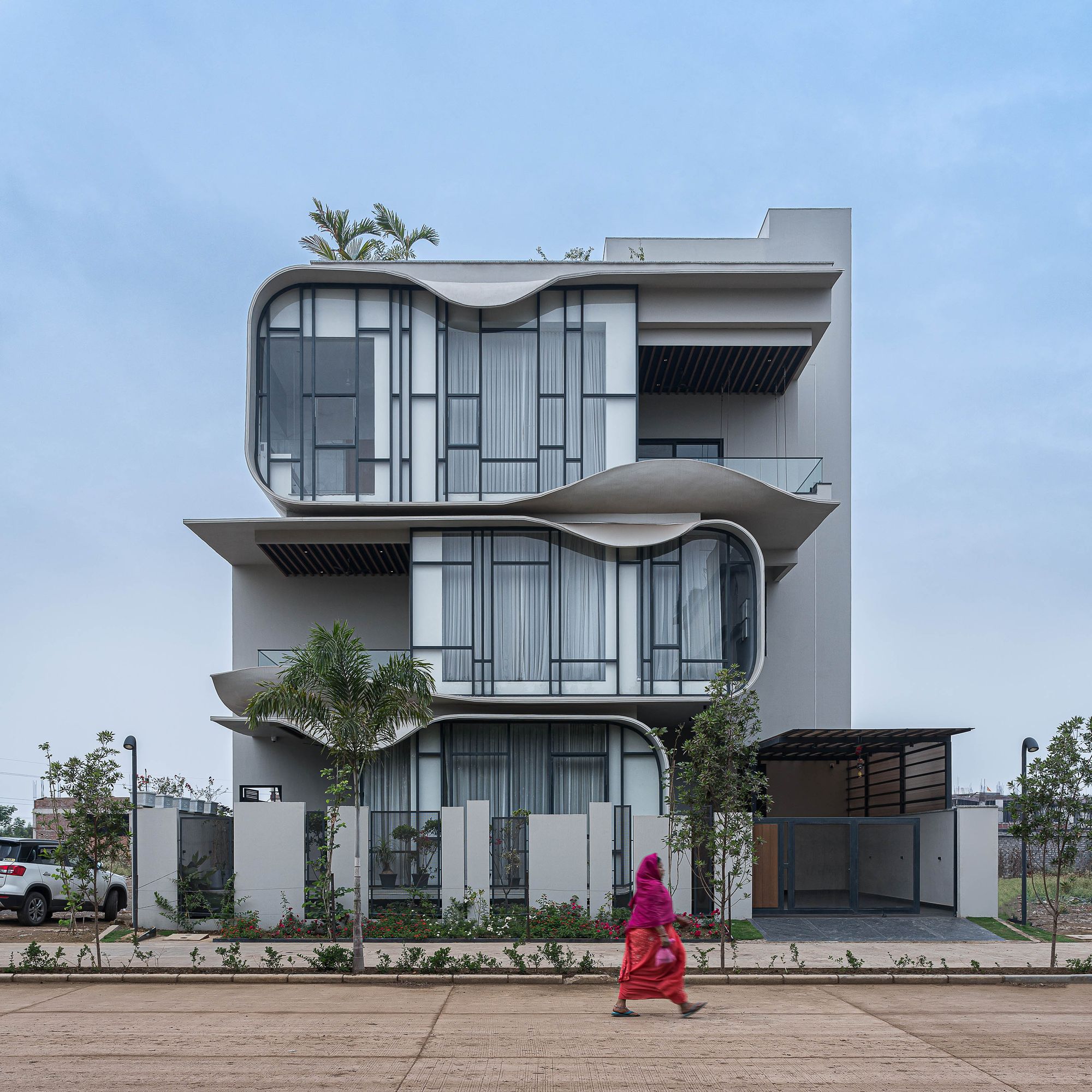 More and more urban houses these days tell the stories of multiple families living together harmoniously. This story of Peeyush residence encapsulates just that with a touch of modern design, neutral tones, minimalism, and fluidity that runs through every element of the house. The architecture studio meticulously fashioned a design that not only met the functional needs but also infused a unique design style by effortlessly blending spaces.
FACT FILE
EMBRACING THE CURVES:
The very foundation of Peeyush Residence is built upon curves. From the exterior elevation to the interior walls, the house showcases an unprecedented harmony between organic lines and sleek geometry. Curved walls made from ferrocrete gently guide your movement, while the exterior elevations wrap around the structure like a warm embrace. It's not just a design choice; it's a way of life. These curves seamlessly blend the floor, the interior walls and the ceiling together to almost make one feel as if they are in a cozy den.
UNITING ELEGANCE AND FUNCTIONALITY:
Envision a modern, simple home decorated in a harmonious palette of neutral tones highlighted with vibrant tropical greens, with both colors and materials working in unison to create a soothing ambiance, that is what every space in the house looks like. Rooms flow smoothly onto pleasant balconies, blurring the distinction between indoor and outdoor spaces. A lot of natural light and fresh air flow through the house, making it a peaceful and refreshing retreat for its inhabitants.
The house is divided into three levels and each level comprises one fully functional home. A combined living and dining in the center of the floor plate make for a common space where everyone can gather and socialize. All other private spaces are placed around this central space. Multiple balconies placed at every corner of the house create more solitary spaces for evening tea and leisure.
MIXING STYLE AND STRENGTH:
A staircase sits at the center of the house right next to a courtyard that connects all the floors of the house. The clients wanted this staircase to be covered with a partition that would provide privacy to every space while also maintaining a connection. To solve this, the designers curated a brick and steel installation that serves as more than just a railing for the staircase; it's a statement of industrial chic.
Made from a harmonious blend of raw materials against the refined aesthetic of the home exemplifies the true essence of its contemporary design. Exposed custom-made bricks placed at an angle are fixed into steel rods that run throughout the height of the three-story staircase. The angle of the bricks is what provides privacy but also shows when someone is moving behind this installation. Skylights positioned strategically flood the interiors with natural light, further emphasizing spaciousness while promoting energy efficiency.
BALANCING PRIVACY AND CONNECTION:
One of the remarkable features of this home is its ability to balance privacy with connectivity. Thoughtfully placed balconies and a central courtyard act as transitional spaces that allow the family to retreat into their personal spheres while staying connected to the heart of the home. Common areas, designed to encourage shared experiences, are where the essence of the family's character comes to life.
Multiple design elements have been smartly designed and placed to make sure this interchange of privacy and connectivity runs throughout the house.
This special home keeps things simple but adds a creative twist. Curves, calm colors, strong materials, and places for family time all make it unique. It's a reminder that a house can be more than just a place to live – it can be a work of art that makes life better.
To watch the complete home tour, peruse the drawings in detail, and browse additional photographs, visit Buildofy. While there, don't miss out on the other impressive luxury homes in Karnataka and across India.