This Contemporary Bengaluru House Is An Ode To The Client's Love For Vintage Aesthetics And Cherished Memories
Far From the Stone Street is a captivating home in the locality of Whitefield that masterfully blends rustic nostalgia and modern comforts, creating a dwelling that's not just a home, but an intimate canvas of cherished memories.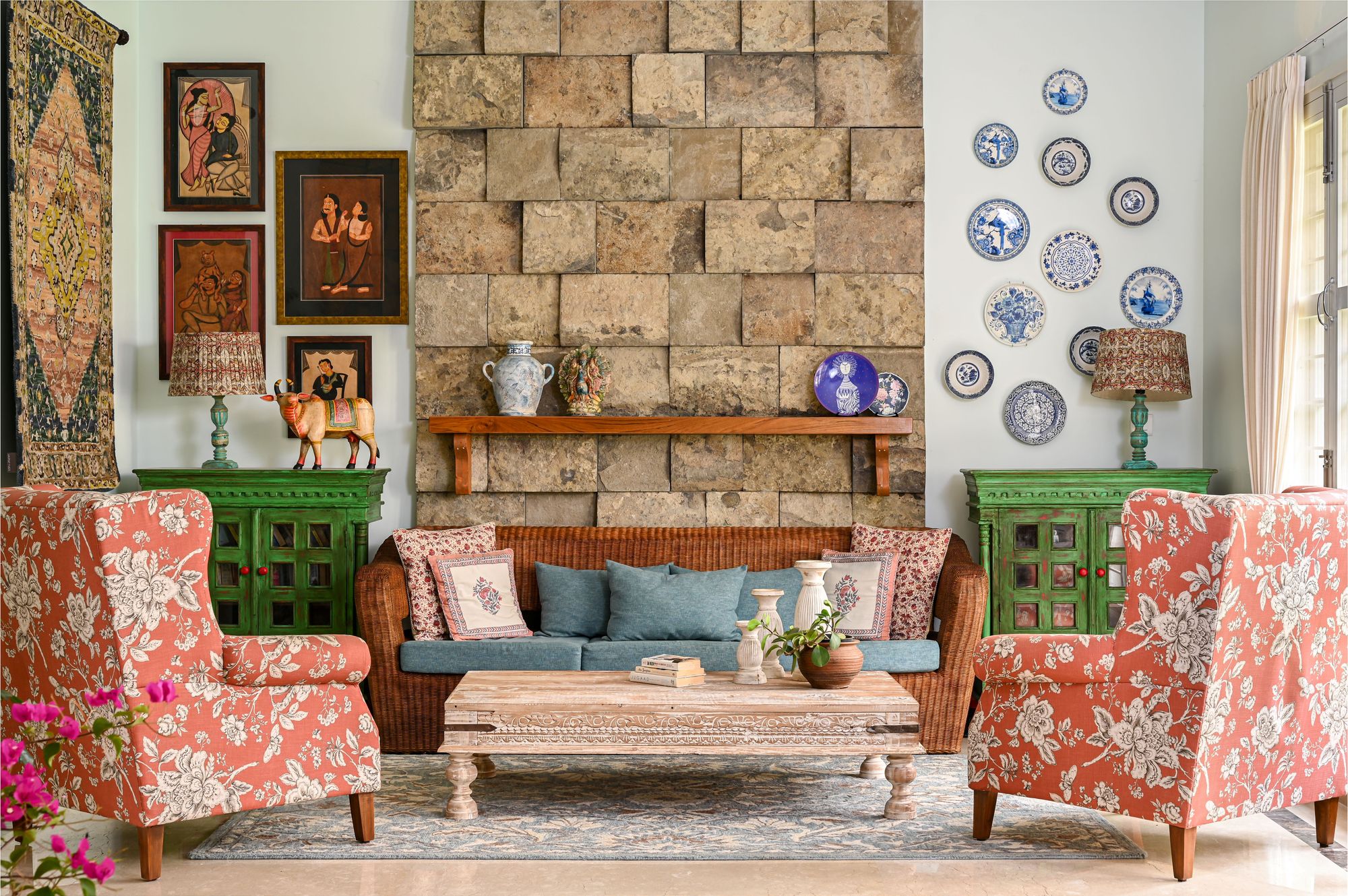 FACT FILE
Far From the Stone Street in Whitefield, Bengaluru emerges as a testament to the harmonious fusion of rustic allure and existing architecture in a world often overtaken by modernity. This unique design journey embarked upon by the homeowners culminated in a dwelling that not only reflects their longing for a sanctuary but also encapsulates their passion for literature and art. As the doors of this home swing open, a vintage narrative unfurls, painting a captivating story of design and inspiration.
THROUGH THE DOORS
At the entryway, a sprawling 8 ft foyer extends a warm invitation, setting the stage for the vintage charm that characterises the entire home. Geometric tiles on the entry wall and a distressed shoe unit are just a prelude to the journey back in time that awaits within. Moving further, a mirror-panelled frame flanked by torch-like wall lights introduces an eternal ambience. An auburn console, embellished with wicker baskets, adds an air of sophistication.
THE PUBLIC SPACES
The living area serves as a gallery of aesthetic marvels. Hand-painted blue book units strike a symmetrical pose, a testament to meticulous attention to detail. However, the awe-inspiring stone wall emerges as the pièce de résistance, evoking the grandeur of a medieval era. This architectural marvel refers to an epoch where stones held tales of the past and celebrated craftsmanship.
Transitioning to the dining area, Jaisalmer stone arches gracefully embellish the space, invoking the regal essence of Indo-Saracenic architecture. The ceiling, adorned with wooden strips that mimic trusses and beams, transports occupants to a time of ornate opulence. A grand 9 ft dining table takes centre stage, flanked by woven jute chandeliers that infuse the space with an air of grandeur. In the kitchen, audacious colours collide to create an inviting space. A vibrant green central island, red cabinets, and blue shutters boldly assert themselves against towering cabinetry. The result is a harmonious cacophony that transforms the kitchen into a lively hub. Diagonal chessboard flooring and a playful backsplash further amplify the vivacity.
FAMILY LOUNGE
The family lounge is an ode to wabi-sabi, finding beauty in imperfections. A deep-red wall adorned with Chettinad pillars breathes life into the space, exuding a personal charm. Repurposed sofas and carefully curated earthen pots within the TV unit offer a welcoming aura, inviting relaxation and togetherness.
PRIVATE SPACES
The daughter's room is a canvas of freshness and adaptability. The mint and white palette chosen ensures the room evolves with her teenage years. A study corner and thematic wallpaper add personalised touches, while paper lamps and a lattice cupboard seamlessly integrate into the monolithic scheme of the house. Stepping into the master bedroom feels like entering a world of innovation and comfort. An industrial-chic cantilever staircase greets the eye, leading to a walk-in wardrobe that surprises between distressed cupboards. A cobalt blue wall adorned with artefacts adds character, while a mezzanine floor adds dimension to the 16 ft height. The presence of a bamboo-lamp-dotted four-poster bed infuses the room with a sense of cosy elegance.
The parents' bedroom is a tranquil retreat characterised by blush hues. Sabyasachi wallpaper and antique side tables contribute an air of sophistication, while a deep green velvet-upholstered chair adds a playful pop of colour. Finally, the guest bedroom is a haven of subtlety. Shades of blue dominate, celebrated through printed wallpaper and well-placed accents. Low-hanging cane pendant lights and sleek wall-mounted fixtures coalesce to create a serene ambience.
Far From the Stone Street house is a symphony of rustic elegance and individuality. This dwelling isn't just a home—it's a testament to the homeowners' aspirations and origins. Every corner tells a story and every detail is a reflection of their uniqueness. Amidst the rustic charm, the clients have curated a timeless haven that reverberates with their cherished identity.