Tranquility Amidst Urban Buzz: Exploring the Rustic Charm of Chennai's Hidden Haven
Discover the hidden oasis of Chitra Rajan, a rustic house nestled within the bustling city of Chennai. Enveloped by a lush green landscape garden, this architectural marvel seamlessly blends modern comfort with traditional charm.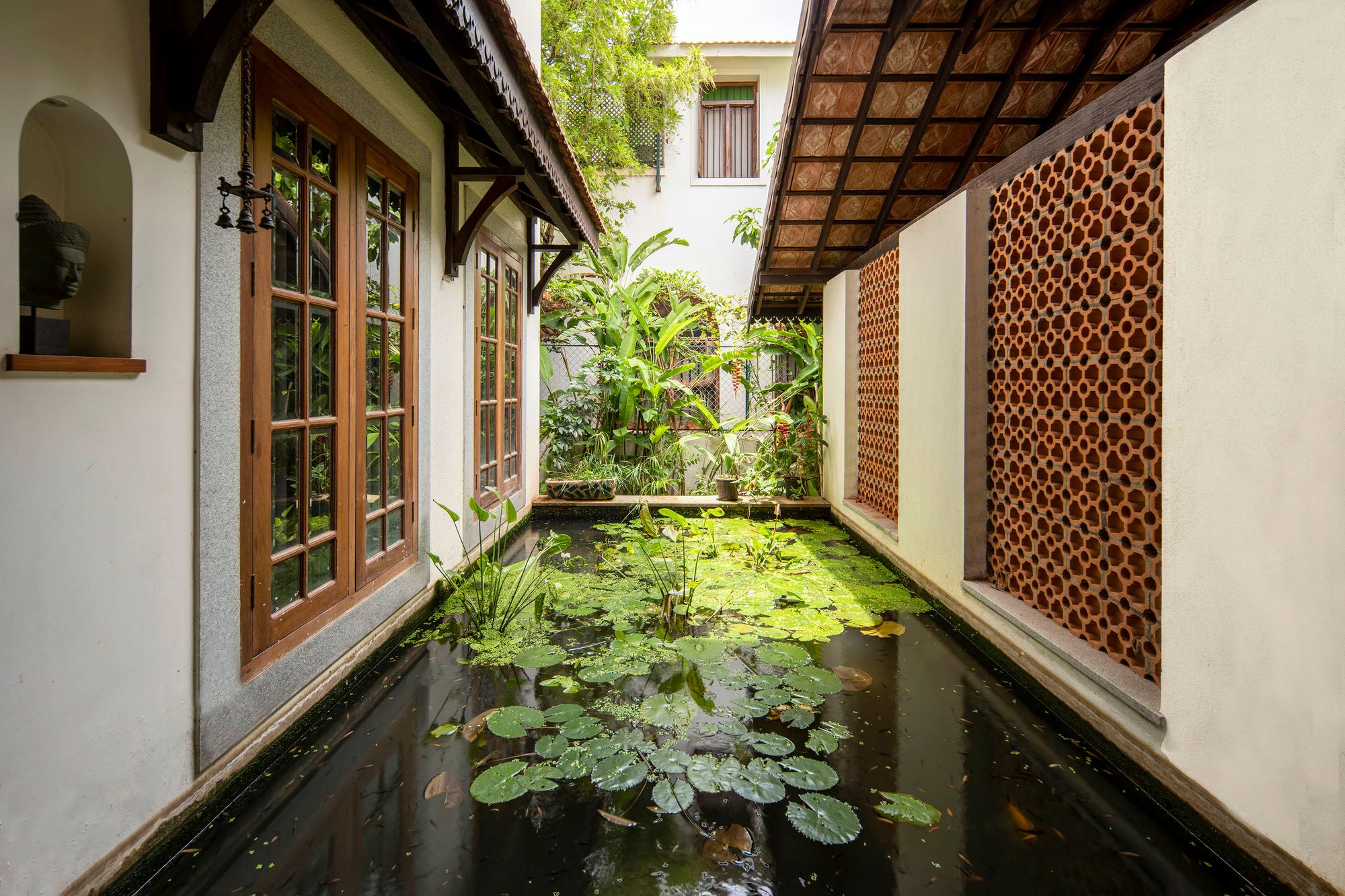 A hidden gem in the center of Chennai's bustling urban landscape gives refuge from hectic daily life. Chitra Rajan's rustic house, hidden beneath a veil of lush foliage, is a tribute to the harmony between modern living and natural tranquility. This architectural gem not only provides shelter but also creates an oasis of tranquility, where time appears to halt and the cares of the outside world flow away.
FACT FILE
JAALI WALLS THAT INTERACT
One of the most intriguing aspects of this rustic home is the porch's clever use of terracotta jaali walls. This design choice not only adds a traditional aesthetic aspect but also serves a useful purpose. The jaali walls let air circulate over the water body, allowing evaporative cooling to naturally lower the ambient temperature within the building. This ingenious ventilation system, in conjunction with open ventilators on the top floor and wooden windows, efficiently keeps the interior cool even in the blazing Chennai heat.
RUSTIC MATERIALS FOR AN ANCIENT CHARM
The Chitra Rajan residence cleverly blends modern comfort with ancient charm. The sunken floor space in the entryway, which is lined with natural stone and timber, not only pays homage to Indian architecture's rich tradition but also provides a warm and inviting ambiance. The rustic image of the house is enhanced by careful elements such as the reclaimed timber finish gate, raw furniture pieces, hardwood shutters, and dark-colored textured tiles. These pieces combine to form a unified and authentic rustic environment.
OUTDOORS BLENDING INTO THE INDOORS
Moving farther into the house, you'll find rooms that celebrate the union of interior and outdoors. The meditation area, with its large doors, lets in plenty of natural light, offering an ideal environment for reflection and recuperation. An open terrace on the first floor beckons, affording panoramic views of the surrounding landscape—a location to absorb up nature's splendor and tranquility.
FINDING HARMONY IN THE URBAN CHAOS
The brilliance of Chitra Rajan's architecture rests not only in its design but also in its ability to seamlessly blend calm and comfort into the lives of its people. This contemporary dwelling works as a bridge between the rigors of urban life and the need for a relaxing retreat, with its vast open spaces, inviting sit-outs, and the soothing presence of a water feature.
Chitra Rajan's rustic abode stands as a reminder that harmony can be found in the most unexpected places in a city known for its fast pace and continual buzz. This home, surrounded by a lush green oasis, tells us that it is possible to build a refuge of tranquility amidst the chaos—a place where time slows down and the spirit finds solace.
As you explore Chitra Rajan's intriguing spaces, you are not only witnessing an architectural intervention, but also a profound relationship between nature, tradition, and modernity. It serves as a reminder that even in the midst of the city, a slice of rustic paradise can be found—a spot where one may actually find balance and reprieve.
To watch the complete home tour, peruse the drawings in detail, and browse additional photographs, visit Buildofy. While there, don't miss out on the other impressive luxury homes in Uttar Pradesh and across India.