The Red Man's House: Harmonizing Vastu Principles with Contemporary Living
Welcome to The Red Man's House, a meticulously curated abode in Vadodara, Gujarat, built to seamlessly suit the demands of a joint family while adhering to Vastu Shastra principles.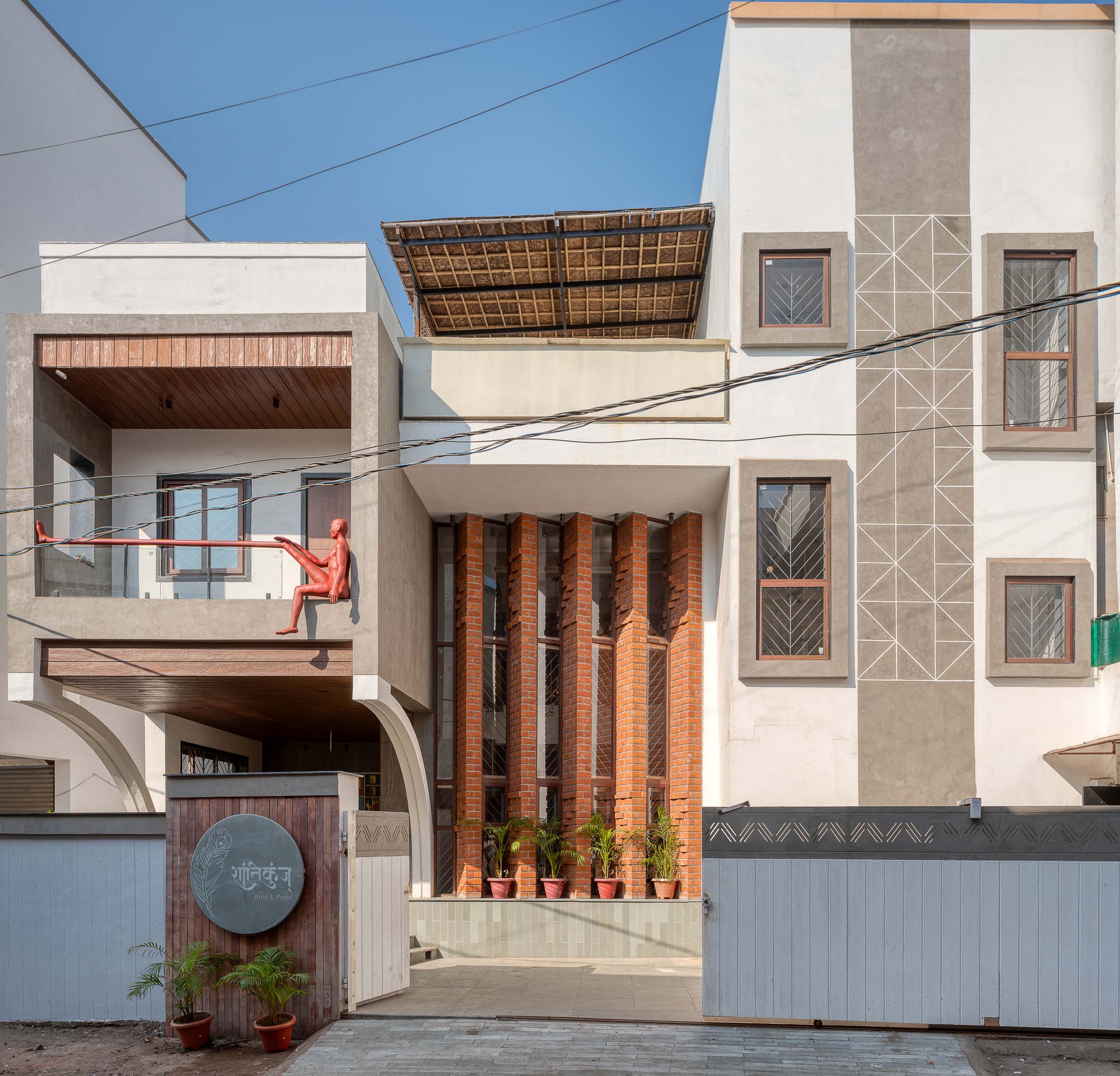 This residence, situated in a dense old neighborhood, features a thoughtfully organized layout across multiple floors, each catering to privacy and convenience for every family member. Let's take a closer look at how this masterpiece harmoniously blends contemporary living with Vastu principles, embracing tradition and functionality.
FACT FILE
A WARM WELCOME
A huge verandah greets visitors with a circular floor pattern in kota stone, displaying an elegant blend of architectural styles. This area welcomes guests into the open, double-height living room, which serves as a focal point for family events and social interactions. The living area has been tastefully planned, utilizing natural light via an angled brick feature wall and accented with antique furniture and traditional pattern prints.
The ground level primarily houses social spaces such as the living room, dining room, and kitchen, emphasizing family unity. However, it does offer a parents' bedroom, which provides a private retreat with easy access to other rooms. This deliberate division achieves the ideal blend of social living and personal solitude.
AN ARCHITECTURAL HIGHLIGHT
The Pooja and dining areas are located on the northeast side of the house and are divided by a curving partition wall, which adds to the overall elegance. The double-height skylit Pooja space offers a well-lit ambiance appropriate to spiritual activities, while the eating area oozes minimalistic yet utilitarian charm with its Athangudi tile flooring.
A SCULPTURAL STAIRCASE
A one-of-a-kind staircase creates a stunning backdrop for the living room. An elegantly curved wooden structure and a folded-plate concrete stairway combine to form this staircase. The first flight of stairs features skillfully curved wooden planks that form a smooth visual extension into the adjacent wooden wall. The front surface of the treads is embellished with mosaic tiles, lending a touch of heritage. These design features combine to create the staircase into a sculptural masterpiece, making it a focal point of the entire area.
A COSY YET VIBRANT SPACE FOR RELAXATION
The master bedroom is a lively, colorful and lively suite with separate living and sleeping spaces. A balcony with a view of the busy street is positioned in the front, while the huge bathroom is located in the back. Traditional Indian elements adorn the bedroom, including a wainscoting panel that serves as a backdrop for a four-post bed embellished with Indian designs. The front of the bed is adorned with a jharokha, which opens into the double-height space and provides a stunning perspective of the living room below. The jharokha adds a touch of elegance with its teal powder coating on mild steel and cane sheet railing.
The adjacent master bathroom incorporates Indian patterns and materials to keep the whole feel consistent. A Greek-style blue ceramic basin is artfully set atop a wooden table in the vanity area. The bathing area is entirely made of Jaisalmer stone and features numerous nooks embellished with Indian murals. Mosaic tiles on the bathroom floor complete the Indian design by enhancing and elevating the overall mood of the area.
EXTERIOR ELEGANCE
Despite being bordered on three sides by neighboring residences, the architects carefully used the front elevation to impart vibrancy. The extending balcony in the master bedroom is embellished with a stunning red man sculpture, making the façade a true work of art.
The 'Red Man' sculpture, perched atop the jutting structure, emits a sense of dynamic energy, readily capturing the attention of pedestrians. With its bright attractiveness, this abstract portrayal of humankind becomes a compelling focal point, changing the architectural composition into a fascinating and immersive piece of art, complemented by its enigmatic charm.
MATERIAL PALETTE AND ITS ARCHITECTURAL INTEGRATION
The architects rigorously maintained the material palette by purposefully choosing raw and traditional elements such as wood, stone, and earthy textures. This meticulous decision accentuated the blend of modern living and antiquity, embodying a welcome and culturally rich living experience created for the joint family.
The Red Man's House is an edifice that explores design and cultural fusion, honoring Vastu Shastra's core while prioritizing modern functionality.
Its meticulous curation, seamless functionality, and artistic appeal elevate it to the status of a true masterpiece, providing a living experience that seamlessly combines tradition and contemporary life for the joint family that it accommodates in Vadodara, Gujarat.
To watch the complete home tour, peruse the drawings in detail, and browse additional photographs, visit Buildofy. While there, don't miss out on the other impressive contemporary homes in Gujarat and across India.